3-Day or 8-Day Sarawak Rainforest Bike Discovery (BM8A)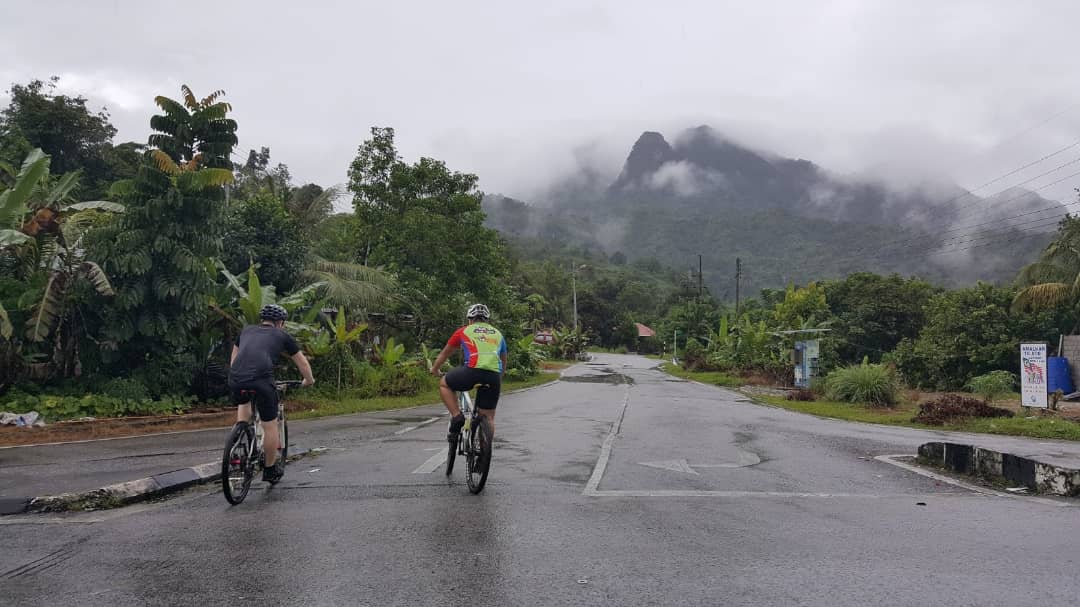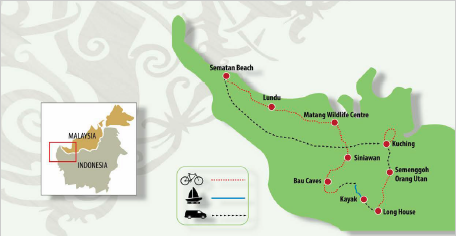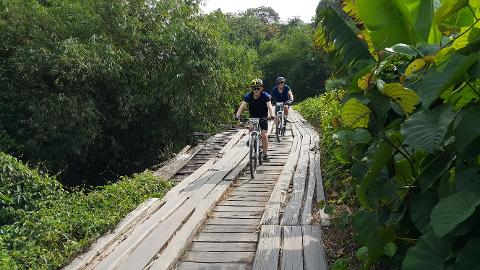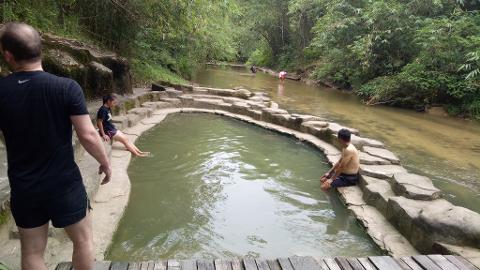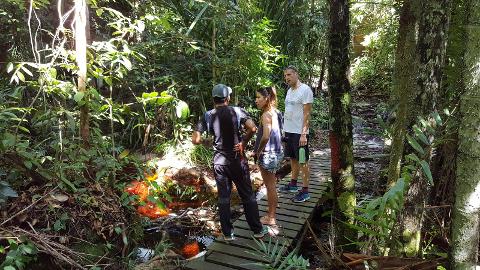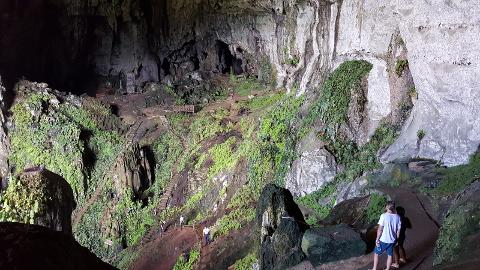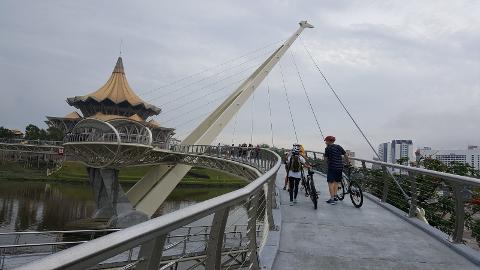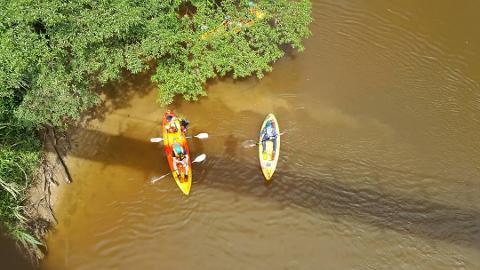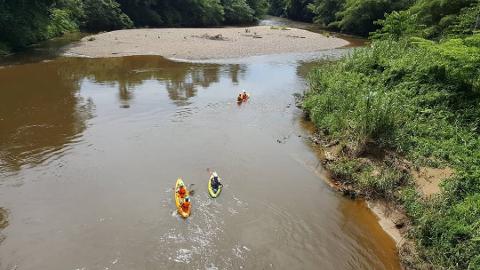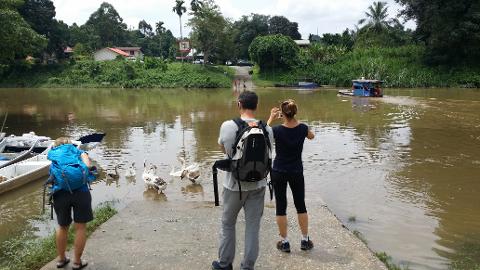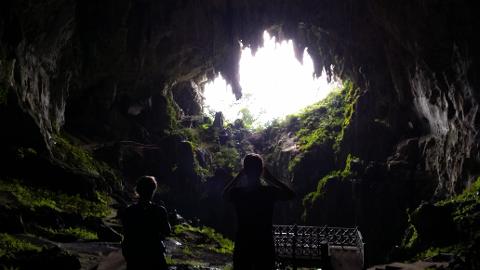 Duration: 8 Days (approx.)
Location: Kuching, Sarawak, Sarawak
Product code: BM8A
Discover the Sights, Sounds & Taste of Authentic Sarawak (8D7N)
Explore on two-wheels the diversity of amazing Borneo from the mountainous interior to the coastal mangroves. Stunning Borneo rainforest, spectacular scenery, fascinating wildlife, real locals and delicious tribal cuisine make this an unmissable experience.
The Ultimate Two-Wheels Explorer's Choice: kick-start from the majestic interior mountain range and pedal down to spectacular coastal national parks; and en-route, meet mankind's closest relative, the Orangutan. Fully immerse yourself in the tropical rainforest by trekking in the jungle, kayaking down serene mountain streams and dipping yourself under cool waterfall. To top it all off, discover the hospitality (or is it the hostility?) of Sarawak's legendary Head-Hunters and indulge yourself in tropical cuisines with fresh ingredients of jungle produces and ocean catches. Open up your senses and take in all the sight, sound & taste of this eight-days unique Borneo rainforest cycling adventure around Kuching, the irresistible cultural and historical center of mystical Sarawak.
Your Trail
DAY 1 Arrive at Kuching, Cycle the Heritage Trail (12 km)
Arrive in the capital of Sarawak, the charming old town of Kuching. The group will meet with the tour leader in the late afternoon for a briefing on the tour, a chance to try out the bikes, and then we head off straightaway onto the heritage trail of the White Rajah. Enjoy a welcomed sunset dinner at the bank of the romantic Sarawak River.
Basaga Hotel / The Marian Meals: D
DAY 2 Transfer and Cycle to Annah Rais Longhouse (34 km)
We watch orangutan emerge from the rain forest during their feeding time before getting on two wheels and cycle along the spectacular Penrissen Range dotted with local farms and villages. Explore a peaceful Bidayuh Longhouse and experience a freshly cooked authentic Bidayuh dinner in a lovely homestay.
Annah Rais Homestay Meals: BLD
DAY 3 Kayak (7 km) and Cycle to Siniawan( 37 km)
Kayak, Cave and Cycle, 3-in-1 Day! We start the day by floating down a stretch of untouched tributary of the Sarawak River in a kayak to discover hidden waterfall and explore unique limestone formations. After a quick transfer, it's then back on the bike to cycle through some spectacular limestone karst landscape and visit a bat cave before settling in a century old historical town.
Siniawan Heritage / One Tondong Hotel Meals: BLD
DAY 4 Cycle to Matang Wildlife Center (55 km)
A lot of fun riding today as we cycle along the foothill of Matang mountain range. Experience sections of jungle off-road biking, river crossings and soak beneath cool waterfalls. We reach to Matang Wildlife Center for another chance to see the orangutans and enjoy the unique sounds of Mother Nature at night.
Matang Wildlife Center Meals: BLD
DAY 5 Cycle to Gunung Gading National Park (64 km)
Pedal hard today on a cross-country coastal ride towards the western tip of Borneo. At Lundu, we stop by Gunung Gading National Park to try our luck to spot the blooming of Rafflesia, the biggest flower in the world. The afternoon is free and easy to enjoy the resort's swimming pool.
Lundu Union Yes Retreat Meals: BLD
DAY 6 Cycle to Sematan (36 km)
We cycle along the beach lined with coconut trees leading to the beautiful seaside town of Sematan. Cycle past deserted beaches and paddy fields to reach our last seaside resort.
Sematan Palm Beach Resort Meals: BLD
DAY 7 Rest and Transfer to Kuching
Make the most of our last day by the beach. After lunch, we drive back to Kuching to check-in hotel before our farewell seafood dinner.
Basaga Hotel / The Marian Meals: BLD
(Extension of the trip to the Tip of Borneo (2D1 N) by boat during the Dry Season is possible from Sematan).
DAY 8 Tour Concludes in Kuching
Today the tour concludes. For those who are not in a hurry to leave, the interior of Borneo awaits. For information on these and other destinations to extend your holiday, please ask our team at the time of booking.
Meals: B
Please note that the above itinerary is subjected to change due to unforeseen circumstances. However, we will always do our best to adhere to this original itinerary.


Schedule Departure 2020

5 Jan – 12 Jan
2 Feb – 9 Feb
3 May – 10 May
18 Oct – 25 Oct
1 Nov – 8 Nov
6 Dec – 13 Dec
Schedule Departure 2021

10 Jan - 17 Jan
28 Feb - 7 Mar
2 May - 9 May
17 Oct - 24 Oct
31 Oct - 7 Nov
5 Dec - 12 Dec
Schedule Departure 2022
9 Jan - 16 Jan
27 Feb - 6 Mar
1 May - 8 May
16 Oct - 23 Oct
30 Oct - 6 Nov
4 Dec - 11 Dec

Contact Us:– If the Scheduled dates don't fit your schedule, contact us to custom your tour to an alternative date. Or if you have a group of more than 6 pax, ask for our group pricing!


Trip Notes
Number of Days: 8 Days / 7 Nights
Total Cycling Distance: 238 kilometers
Biking Difficulty: 3/5 (Active) Paved roads and gravel tracks with some undulations. Some easy off-road biking.
No. of Cycling Days: 4 full days, 2 half days
Accommodation: As per itinerary
Meals: As per itinerary
Bike Hire: RM 580 / Bike
Minimum 2 adults per order
Minimum Age: 12 Years Old (on Schedule Departure)
Package also include: English speaking guide, accommodations and meals, airport transfer, support vehicle, helmet, rain ponchos, drinks & snacks, other non-riding activities as per itinerary and entrance fees. Free airport transfer for tours of more than 3 days.
All services stipulated above are subject to availability at the time of booking.These tours operate on the principle that you may be in a small group of other people.
What You Should Expect
Our Team: Your local English-speaking tour leader takes great pride in his or her heritage (as well as their own personal story) and are well informed in Borneo's history, culture and natural wonders of the area where you are biking and are skilled at passing that knowledge on to you. Along with further support from his or her assistant and / or driver, the tour leader's aim is to deliver a comfortable, safe, fun and enriching travel experience by ensuring- that everything runs smoothly so you can enjoy a trouble-free journey with no worries at all.
Bikes and Backup Support: On short tours (those under 3 days) we include bike hire in the tour price, while on longer tours, we offer bike hire as a supplement in case you prefer to bring your own bike. Bikes can be rented from us on an availability basis (please check the factsheet for the hire cost). We provide good condition front suspension mountain bike with lightweight alloy frames, 27-speed gearing, dish-brakes and Shimano components. Helmets are included. Our tour leader carry spares and tools for basic repair.
Support Vehicle: Our bike tours are fully supported by an air-conditioned vehicles, so should you want put your feet up, there will be a seat for you and a place to put your bike. The support vehicle also carries your luggage as well as keep you topped up with water, tropical fruit and snacks.
Safety Measures: Wearing a helmet is strongly recommended on all our biking adventures. Your tour leader will conduct a group cycling safety meeting on day one, as well as a trip briefing at the beginning of each day on what to expect during the day's ride. Your tour leader is trained in first aid and emergency rescue, but to a large degree, you must be responsible for your own safety while riding. For non-biking activities such as kayaking, safety measure such as life-jackets are compulsory and a separate safety briefing will be given before the start of each activity.
Food & Drinks: Meals and snacks are included as per the itinerary. We take good care in our planning so it includes the best of Sarawak cuisine, including delicacies from mixture of Dayak, Malay and Chinese cuisine that uses local fresh ingredients from the tropics. Some can be hot and spicy. We eat dinner together Malaysia style by sharing delicious dishes. Alcoholic drinks are available at your own expense, but it might not be served in some Muslim halal restaurants where we will eat.
Accommodation: We have carefully chosen accommodation that is the best available for the location and have friendly local hosts. We strive to offer a good mix of accommodation that is clean, comfortable and representative of the local culture so you have a comfortable night after a hard day in the saddle. The type of lodging can vary depending on location and what is available: local tribal homestay, jungle lodge, national park cabin, historical shophouse and seaside resort. Rooms are based on twin sharing basis with double beds and if you are a single traveler, you might be paired with traveler of the same sex unless you book a single supplement.
Fitness and Cycling Conditions: The tour statistics of cycling days, cycling distances and cycling grades for each tour are listed in the fact sheet. All our trips require basic fitness, preferably acquired through riding your bike. The fitter you are the more you'll enjoy the riding. However, all of our current bike tours in Sarawak are less strenuous in nature with the average cycling distance of 30-40 km per day and the longest cycling not more than 70km. Most cycling terrains are mainly on continuous paved roads (and limited gravel tracks) with some undulations. It is mostly feasible for the journey to be completed by people of moderate cycling ability.
Your Pre- and Post- Tour Information
Weather: Borneo being on the equator is generally hot (average daily temperatures are around 30 Celsius) and humid, especially during the noon period. Therefore, as much as possible, we like to start our day early and finds points of interest to rest at during the hottest part of the day. Short busts of rain are fairly common during the mid to late afternoon but we provide waterproof ponchos for continuous riding which can be fun.
What to Bring: Once you have booked your tour, we will send you a pre-tour information pack that will have all the information you need to prepare for the tour, such as the packing list and joining instruction etc.
Start & Finish Point: For longer tours of over 3 days, your tour start and finish point is at the Kuching airport and we will transfer you to and from our pre-arranged hotels. For shorter tour, the tour start and finish point is the accommodation of your own arrangement within Kuching city where we will arrange for your pick up on the day the tour starts. Upon your booking, you will need to give us your flight arrival details so that airport transfer can be arranged (for longer tours) or your hotel detail (for shorter tours).
Singles: Soles travelers are always welcome and those who would like their own room have the option of paying -a single supplement. Otherwise, we will arrange for a shared room with another solo traveler (of the same sex) at no extra cost. If there is no roommate available, we will cover the additional cost of a single room.
Money: The official currency is the Malaysian ringgit (RM). Foreign currencies are not generally accepted and currency exchange is only available in Kuching's major banks as well as larger hotels. Credit cards can be used only in larger hotels and shops. ATMs are widely available in cities and towns, but you'll need cash in villages to pay for some extra meals, drinks, activities and, of course, shopping. We recommend that you bring an equivalent of US$ 250/- (i n Malaysian ringgit) for incidentals.
The Story of Borneo Sarawak
Sarawak is where adventure lives. Join us for the trip of a lifetime, into Malaysia's largest state, all 48,000 square miles of it. Borneo's tropical rainforests and climate provides the ideal conditions for a wide variety of species to thrive, including home to some wonderful and highly endangered animals, such as hornbills (Sarawak is called "land of the hornbill") and primates such as proboscis monkeys and the iconic orangutans.
On the historical front, Sarawak used to be under Brunei suzerainty, but in the 1840s an English gentleman - adventurer, James Brooke, was awarded custody of the turbulent little province, and granted the title Rajah. The dynasty of White Rajahs lasted 100 years; today Sarawak is part of Malaysia. Discover traces of the White Rajahs, how they fought the Dayaks and left important Brooke era buildings which are an important part of Sarawak's architectural heritage today.
The Dayaks, who were renowned for practicing headhunting and territorial expansion, had a fearsome reputation as a strong and successful warring tribe in the past. The headhunting has gradually faded out of practice although many tribal customs, practices and language continue. They live in longhouses called Rumah Panjai. Apart from the Dayak, you will also meet the other people of Sarawak and experience first hand how people of different religions and races in Sarawak live in harmony side by side for generations! On top of it all, you can indulge in a wide variety of popular Authentic Sarawak cuisine, including jungle foods, ocean catches, local street food and dessert treats! We'll try to limit the food so that you will be able to keep riding!
This 8 days trip will provide amazing experience living among the proud people of Borneo -- an epic bike holiday to discover the sight, sound & taste of Authentic Sarawak!
Ride with us, the locals!
As the first and pioneer professional bike tour operator in Sarawak Borneo, we have got it covered: Borneo's best bike trail, most spectacular national parks, best wildlife spotting grounds, the most authentic delicacies and rice wines, secret waterfalls and hidden cave chambers, the friendliest cultural homestays and an amazing biking holiday!
Since 2013, we started with just 1 Bike Day Tour to now over 16 bike tours, including 6 multi-days /-activities bike holiday, ranging from 3 Days 2 Nights to 9 Days 8 Nights. Tourism Malaysia rated Paradesa Borneo to be one of the best bike tour company currently operating in Malaysia.
Our Bike Tours are: Meticulously Planned With Local Knowledge & Professionally Serviced With Borneo Hospitality!
"Travel Globally, Cycle Locally"
How To Book: Done you research and ready to go on our exciting Bike Holiday in Sarawak Borneo?
1) If you see a tour you like, from the tour page, select from the calendar's schedule date which you'd like to travel;
2) Input the number of participants (minimum number of participants is usually 2);
3) Click the 'Check Availability' button;,
4) If you are a single traveler, email us from the Contact page to see if there are other travel on the same date;
5) We will confirm go or no go within 24 hours;
6) Once a trip is confirmed you are free to book your flights and make other travel arrangements;
7) For the next steps we will need to know the names of the people traveling as well as extra details such as passport numbers, height and meal preference etc.;
8) To guarantee your place we require a 30% deposit;
9) Upon receiving the deposit, we will send you an information pack contains useful information such as joining instruction and packing list etc;
Balance of full payment is required to be settled before the due date depends on when the tour is confirmed;
10) Please check our General Booking Conditions section for more detail on Booking Conditions, Payment Procedure and Cancellation Policy etc.
11) If you are having any problems or just want to ask us for more details, please send us an email, or give us a call and one of our tour adviser will assist you with your booking.
( Note: Fairy Cave might be under renovation 2019 and could be inaccessible)