4-Day Borneo Wildlife On Two-Wheels (BM4A)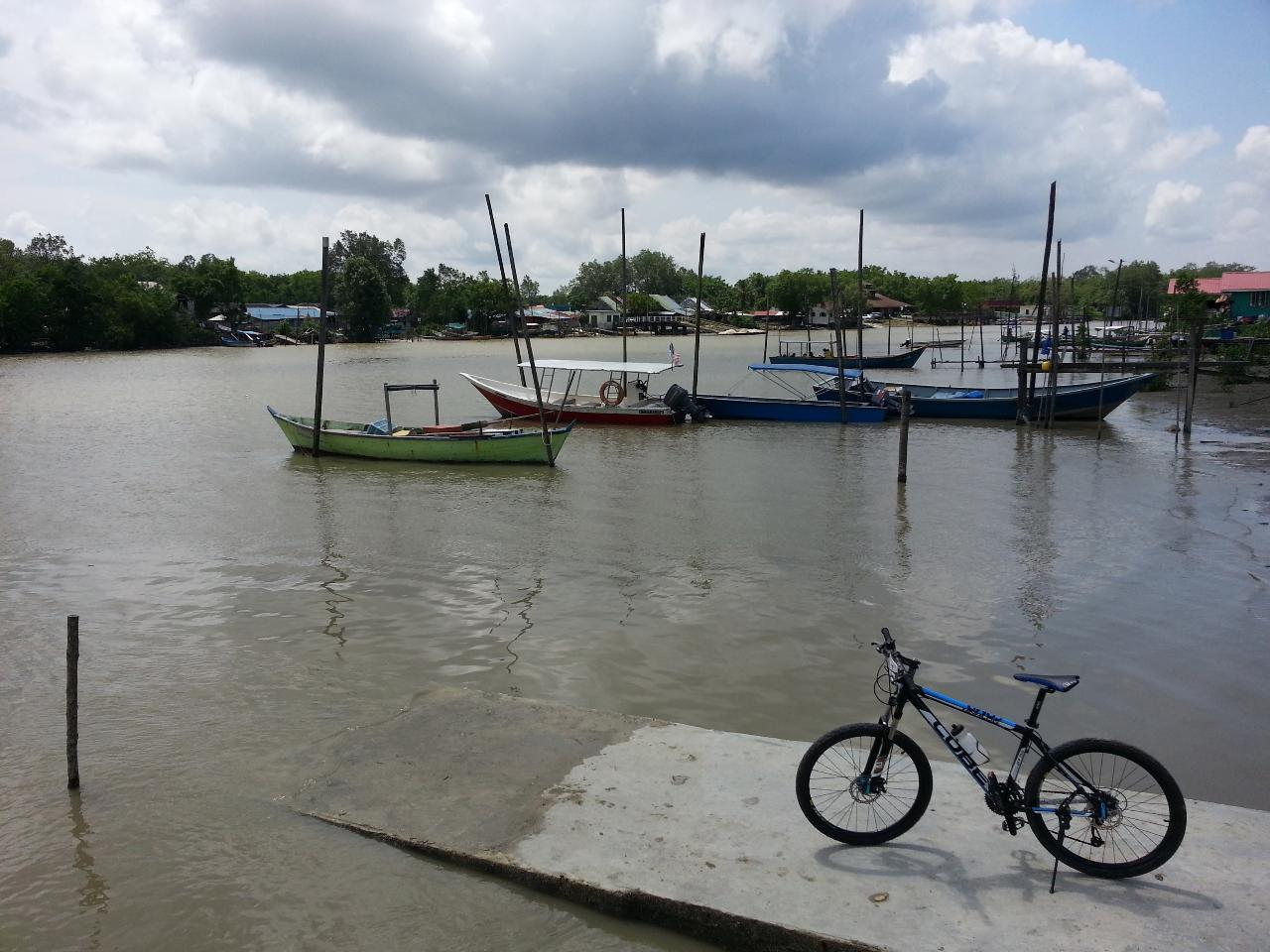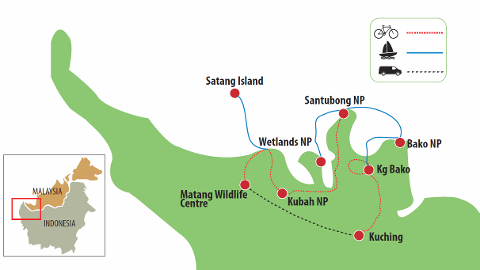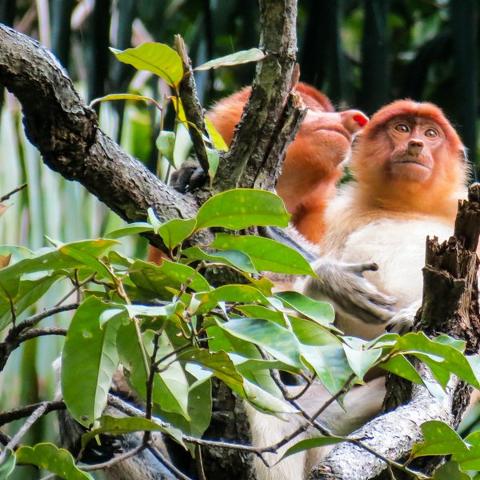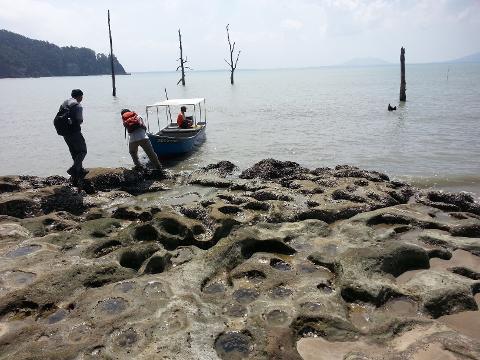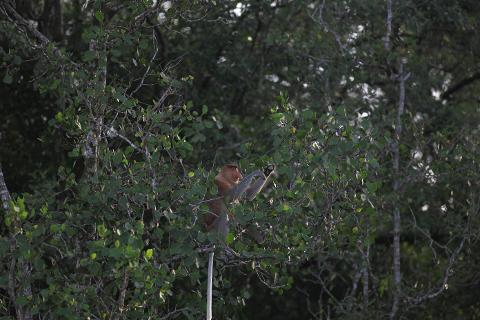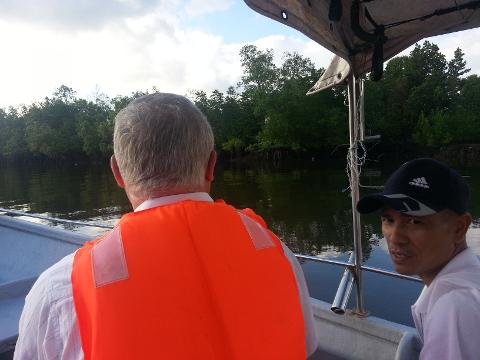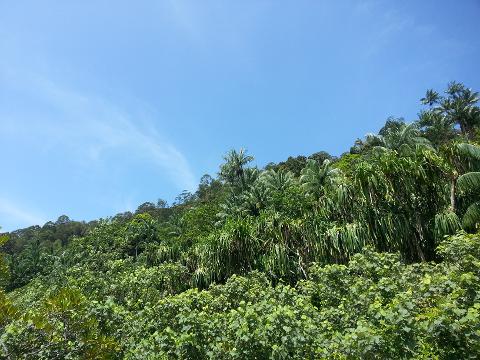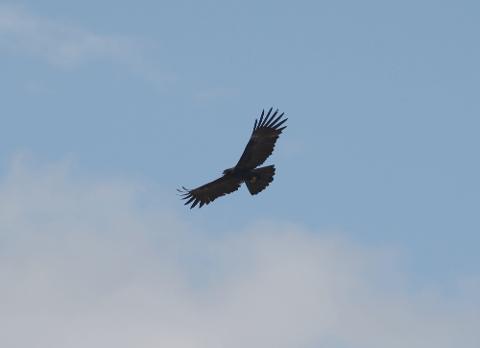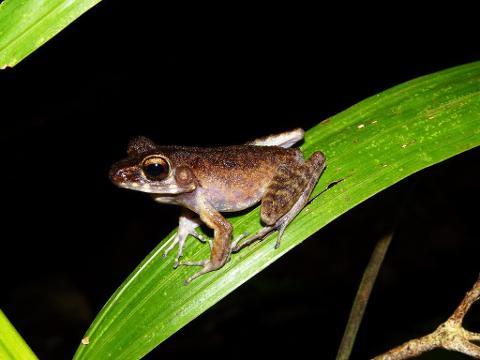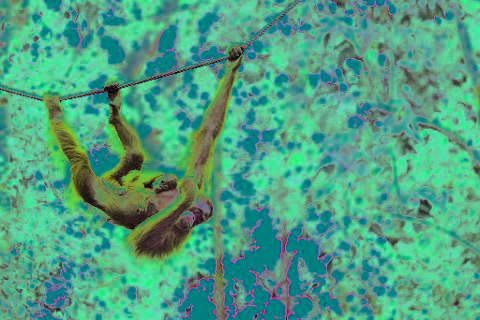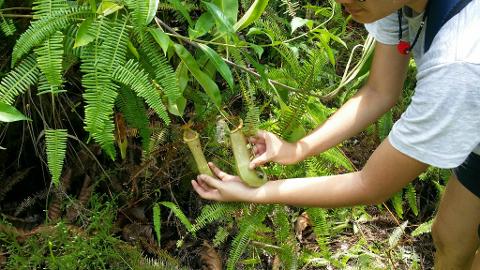 Duration: 4 Days (approx.)
Location: Kuching, Sarawak, Sarawak
Product code: BM4A
Exploring Wildlife in the National Parks of Borneo (4D3N)
Pedal across western Borneo to explore the best national parks for sightings of amazing array of exotic tropical wildlife. This is a four days ride that takes in a diverse range of landscapes and habitats, including some great riding.

A Wildlife Explorer's Dream: meet the wild-man of Borneo, the orangutan; catch sight of indigenous tropical hornbills and elusive sea turtles; fall asleep to the unique sounds of jungle nature at night; and so much more.
A once in a lifetime expedition to observe Borneo wildlife in their natural habitat inside six of the best National Parks in Sarawak. The journey will take you overland on two-wheels, crossing of rivers and ocean by boat as well as trekking through dense tropical rainforest, in both daylight and in total darkness.
With terrains and habitats that ranges from tropical mountainous jungle to mangroves estuary, this bike trail offers a huge variety of tropical wildlife and plants species for you to explore and photograph at an intimate but safe distance. The ultimate wildlife experience awaits you in this four days long bike safari expedition in the heart of exotic Borneo.
Your Trail
DAY 1 Cycle to Bako National Park (32 km)
The trip started off with a ride to Sarawak premier Bako National Park. Before the national park we ride into to the fishing village of Kampong Bako and it's mangrove swamp to spot wild birds and collect wild fern for lunch. After lunch at a fisherman stilt house, we take a boat trip to Bako National Park for a full day of trekking and wildlife spotting. At night, venture into the night with our expert park guide to catch sight of breathtaking night creatures.
Bako National Park Meals: LD
We ride out of the from the city center avoiding the worst of traffic through kampong lanes. At the jetty, we shop at the local fishing market before carrying our bike onto a local ferry crossing into the fishing village of Kampong Bako. Visit some of the traditional craft and trade still in practice such as the making of wooden fishing boat, drying of shrimp paste or the harvesting of jelly fish. We then ride into the mangrove swamp to spot wild birds and collect wild fern for lunch. A seafood lunch is prepared and cooked at a local fisherman's stilt house. After lunch and a short rest, we take a boat trip to Bako National Park for a full day of trekking and wildlife spotting. Our expert park guide will bring you to the best places to see the wild animal in the wild. After dinner, we take a night walk on a different trail to catch sight of breathtaking night creatures. Enjoy your first serene and peaceful jungle night in the national park's cabin accommodation.
DAY 2 Boat to Santubong National Park (3 km)
We take a speedboat along the coast to reach majestic Santubong National Park (in stormy weather, this coastal boat trip maybe changed to inland river or car journey for safety reasons). Hike into the jungle and up to a gentle but cooling mountain waterfall before taking an evening cruise through the spectacular mangroves tributary to sight exotic birds and animals.
Permai Rainforest Resort Meals BLD
A day of two spectacular boat trips today. In the morning, we depart from Bako National Park heading towards the majestic Mount Santubong. This is a great opportunity to spot many migratory birds along the spectacular coastline. During stormy weather, this coastal boat trip maybe replaced with inland river way, but as a compensation, you might have the chance to spot crocodile instead. After check in at the jungle resort by the beach, we cycle to a food center for lunch before heading to the Santubong National Park to hike the waterfall trail for a cooling dip. In the evening, we take the second boat cruise of the day through the spectacular mangroves tributary to sight more exotic birds and animals.
DAY 3 Cycle to Kubah National Park (43 km)
Enjoy your morning ride along a beautiful mangrove coastal way taking in great views of Mt Serapi, our destination today. We reach Kubah National Park for a great day of jungle hiking on a waterfall trail. Go "frogging" at night to find as many species of Borneo frogs as possible.
Kubah National Park Meals: BLD
After an early morning breakfast at the beach side restaurant, we get back on the saddle for a day of fun riding along the mangrove coast. We reach Kubah National Park for lunch before embarking on the waterfall trail to spot many species of pitcher plants and wild orchids. Take a cooling dip at the splendid waterfall before return to the park chalet for an early dinner. In the evening, take a night stroll at the jungle stream to spot Bornean Frogs that comes in all shades and colors.
DAY 4 Boat to Satang Island and Cycle to Matang Wildlife Center (29 km)
A splendid day of wildlife spotting, both on land and in the sea. Cycle to a seaside fishing kampong before a boat trip to Satang Island for a chance to spot sea turtles as well as enjoying swimming and snorkeling activities. Returning onshore, we continue our cycling to reach Matang Wildlife Center to see the orangutans. The tour concludes by sending you back to your city hotel.
Meals: BL
We ride into a sleepy fishing kampong facing the South China Sea and start our boat ride to Talang-Satang National Park. Visit the turtle hatchery on Satang Island to get an idea of conservation work being done to help the highly endangered sea creatures such as Green Turtles. Spend time on the island's white sandy beach or go snorkeling. After a pack lunch on the beach, we arrive back on the mainland and continue our cycling journey to reach Matang Wildlife Center for an encounter with the orangutans. Our Borneo Wildlife On Two-Wheels tour ends and we transfer you back to your city hotel.
Please note that the above itinerary is subjected to change due to unforeseen circumstances. However, we will always do our best to adhere to this original itinerary.
Schedule Departure 2020
23 Mar – 26 Mar
6 Apr – 9 Apr
19 Jun – 22 Jun
24 Aug – 22 Aug
4 Sept – 7 Sept
Schedule Departure 2021
22 Mar - 28 Mar
5 Apr - 8 Apr
21 Jun - 24 Jun
16 Aug - 19 Aug
6 Sep - 9 Sep
Schedule Departure 2022
21 Mar - 24 Mar
4 Apr - 7 Apr
20 Jun - 23 Jun
8 Aug - 11 Aug
5 Sep - 8 Sep
Contact Us:– If the Scheduled dates don't fit your schedule, contact us to custom your tour to an alternative date. Or if you have a group of more than 6 pax, ask for our group pricing!
Trip Notes
Number of Days: 4 Days / 3 Nights
Total Cycling Distance: 107 kilometers
Biking Difficulty: 3/5 (Active) Paved roads and gravel tracks with some undulations. Some easy off-road biking.
No. of Cycling Days: 2 full days and 1 half day
Accommodation: As per itinerary
Meals: As per itinerary
Minimum 2 adults per order
Minimum Age: 12 Years Old (on Schedule Departure)
Package also include: English speaking guide, bikes and backup support, accommodations and meals, support vehicle, helmet, rain ponchos, drinks & snacks, other non-riding activities as per itinerary and entrance fees.
All services stipulated above are subject to availability at the time of booking.These tours operate on the principle that you may be in a small group of other people.
The Story of Borneo Wildlife
Borneo island is the center of the world's diversity for rainforest animals and plants. It's tropical rainforests and climate provide the ideal conditions for a wide variety of species to thrive, including the endangered and iconic Bornean orangutan as well as species of such as the hornbills and crocodiles. In addition, the tropical climate of Borneo also provides an ideal growing environment for 10,000 species of plant, more than in the whole continent of Africa. Borneo Sarawak has an extensive protected area network which includes 44 national parks and 4 wildlife sanctuaries that plays a key role in protecting the natural environment and it's remarkable biodiversity. Six of the National Parks we will be exploring are:-
Bako National Park is Sarawak's oldest national park. It is also the smallest national parks in Sarawak, yet one of the most interesting, as it contains almost every type of vegetation found in Borneo. Potential Sightings - Proboscis Monkeys, Long-Tail Macaques, Silver Leaf Monkeys, Bornean Beard Pigs, Snakes, Tropical Birds, Owls, Pitcher Plants.
Santubong National Park and the surrounding area - From sea level, Mount Santubong's irregular rainforest-covered peaks rise steeply to 810m, forming a catchment for numerous streams and the sanctuary for a variety of wildlife. Potential Sightings - Proboscis Monkeys, Long-Tail Macaques, Silver Leaf Monkeys, Migratory Birds (Sand Piper, Egret etc).
Kuching Wetlands National Park offers an excellent introduction to the mangrove environment, and a chance to see a range of wildlife and spend some time soaking up the sights and sounds of one of the most interesting stretch of coastline in the whole of Sarawak. Potential Sightings - proboscis monkeys, Irrawaddy dolphins, fireflies, estuarine crocodiles and a range of bird life.
Kubah National Park has some of the most impressive rainforest scenery in Sarawak with clear jungle waterfalls and is famed for its rich diversity of palms and frogs. Potential Sightings - Bornean Frogs, Tropical Birds, Rare Palm Species and pitcher plants.
Talang-Satang National Park is Sarawak's first marine national park with the primary aim of conserving Sarawak's marine turtle population. The park's four "Turtle Islands" are responsible for 95% of all the turtle landings in Sarawak. Potential Sightings - Sea Turtle, Lobsters and Migratory Birds
Matang Wildlife Center is a large enclosed area of rainforest is home to many endangered wildlife. The main attraction is the orang utan adoption program, where young orangutans, who were either orphaned or rescued from captivity, are taught how to survive in the wild. Potential Sightings - Orangutans, Sun Bears, Sambar Deers and Hornbills, Bornean Frogs, Bornean Tarsiers.
Gunung Gading National Park has a very special star attraction – the Rafflesia, the world's largest flower. Gunung Gading sprawls across four jungle-clad mountain peaks, and its dense primary rainforest is criss-crossed by crystal clear streams and waterfalls. Potential Sightings – Rafflesia Flower, Hornbills, Pitcher Plants
Sarawak is where adventure lives, join us for the trip of a lifetime. The four days bike safari is an amazing experience to explore the wildlife of Borneo -- an epic bike holiday for the explorer in you.


Ride with us, the locals!
As the first and pioneer professional bike tour operator in Sarawak Borneo, we have got it covered: Borneo's best bike trail, most spectacular national parks, best wildlife spotting grounds, the most authentic delicacies and rice wines, secret waterfalls and hidden cave chambers, the friendliest cultural homestays and an amazing biking holiday!
Since 2013, we started with just 1 Bike Day Tour to now over 16 bike tours, including 6 multi-days /-activities bike holiday, ranging from 3 Days 2 Nights to 9 Days 8 Nights. Tourism Malaysia rated Paradesa Borneo to be one of the best bike tour company currently operating in Malaysia.
Our Bike Tours are: Meticulously Planned With Local Knowledge & Professionally Serviced With Borneo Hospitality!
"Travel Globally, Cycle Locally"
How To Book: Done you research and ready to go on our exciting Bike Holiday in Sarawak Borneo?
1) If you see a tour you like, from the tour page, select from the calendar's schedule date which you'd like to travel;
2) Input the number of participants (minimum number of participants is usually 2);
3) Click the 'Check Availability' button;,
4) If you are a single traveler, email us from the Contact page to see if there are other travel on the same date;
5) We will confirm go or no go within 24 hours;
6) Once a trip is confirmed you are free to book your flights and make other travel arrangements;
7) For the next steps we will need to know the names of the people traveling as well as extra details such as passport numbers, height and meal preference etc.;
8) To guarantee your place we require a 30% deposit;
9) Upon receiving the deposit, we will send you an information pack contains useful information such as joining instruction and packing list etc;
Balance of full payment is required to be settled before the due date depends on when the tour is confirmed;
10) Please check our General Booking Conditions section for more detail on Booking Conditions, Payment Procedure and Cancellation Policy etc.
11) If you are having any problems or just want to ask us for more details, please send us an email, or give us a call and one of our tour adviser will assist you with your booking.